Registration
Health and Safety
The health and safety of all PDI attendees remains a top priority. We are closely monitoring Federal, State, and Local mandates and venue guidelines along with public health announcements. As information pertaining to the COVID-19 virus continues to develop, we will adjust our approach as needed and keep you up to date with new developments to ensure a coordinated effort and a safe environment for all PDI attendees.
​​​​​​​
While COVID-19 vaccinations are not mandatory for PDI attendance, ASMC highly recommends that all PDI attendees either be vaccinated against COVID-19 or receive a negative COVID-19 test within 48 hours of arrival at the PDI. We ask that masks be worn at all times for all unvaccinated attendees and strongly urge anyone who is feeling ill or showing symptoms to remain at home.

Masks will be available at the registrations desk for all PDI attendees desiring to wear one. These protocols will be updated as new information becomes available or local restrictions are amended.
IN-PERSON REGISTRATION CLOSES AT 6PM ET TODAY (May, 27, 2022)
REGISTER
On-site attendees must be registered and paid in full by May 28th at 11:59pm ET in order to check-in for PDI 2022 on-site. If you are not registered and paid in full you will not be able to pick-up your badge until you are paid.
Group Registration
GROUP REGISTRATION IS CLOSED
We will stop taking group registration requests on
Friday May 20, 2022
in order to process all group registrations and collect payment. All groups must be paid in full in order for their attendees to attend in-person or get access to the virtual platform.
Cardholder/3rd party payments
To process a registration or registrations, which need to be paid for by a cardholder, please have the attendee register and forward the invoice (which they will be emailed) to the card holder who can then use the direct link to pay. If you have questions please reach out to
ASMC@support.eventpower.com
or
asmc@eventpower.zendesk.com
.
Workshop Selection
You will select your workshops during registration. On-Site workshops will have limited space and will be offered on a first come, first serve basis. Virtual workshops will not be limited in attendance
View the workshop Agenda
HERE
The PDI officially kicks off with the Opening Session on Wednesday, June 1, 2022 at 8:00am ET followed by the opening of our Exhibit Hall at 5:00pm ET.
Your agency may require you to fill out an SF-182 "Authorization, Agreement and Certification of Training" form, but ASMC does not require this form and cannot guide you on your agency requirements to fill out the form. If you need a signature for your SF-182 you can bring it to PDI 2022 in Atlanta and we will sign it for you.
If you need ADA accommodations for PDI please submit your request no later then
Monday, May 2, 2022
to
education@asmconline.org
Registration Pricing Schedule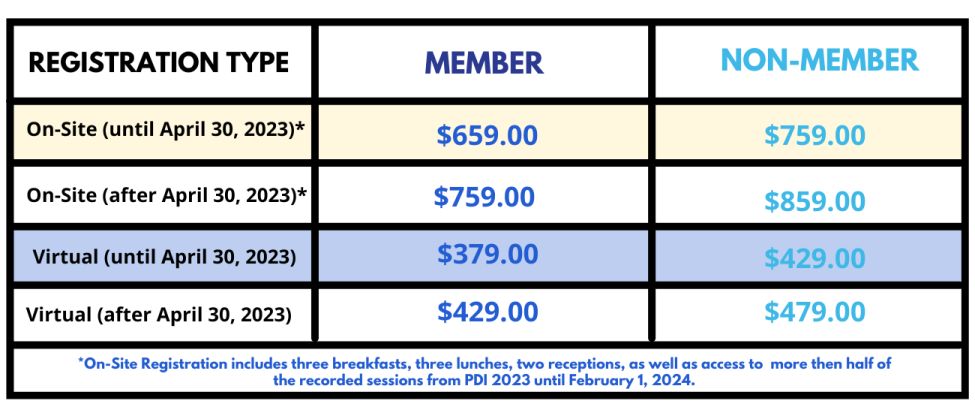 Note: If you have just renewed your membership or joined ASMC, please allow 72 hours for our system to recognize you as a member.
Cancellation Policy
Registration for this event is non-refundable as we will be offering a full virtual meeting with recordings available up to 9 months following the event, should you need to switch your registration from on-site in Atlanta to Virtual please email
ASMC@support.eventpower.com
or
asmc@eventpower.zendesk.com
. There will be a $25 administrative fee for any transaction requiring a refund. This includes, transfering from in-person to virtual or change of payment method. Please consider carefully before paying with your personal credit card.
After
Friday, May 16, 2022
, you will no longer be able change your registration from on-site to virtual as guarantees are due for all on-site events.
ASMC does not accept registrations or payments over the phone.
Questions
If you have questions regarding PDI 2022, please send an email to
education@asmconline.org
If you have questions related to registration for PDI 2022 please email:
ASMC@support.eventpower.com
or
asmc@eventpower.zendesk.com